Japanese nationalists attack Sea Shepherd Cove Guardians
Please watch this video from 2012 below showing  Japanese nationalists, attacking Sea Shepherd Cove Guardians. They even have to be kept away by Taji police men who had to protect peaceful Sea Shepherd activists! Below this video, you can find a german translation of the "communication".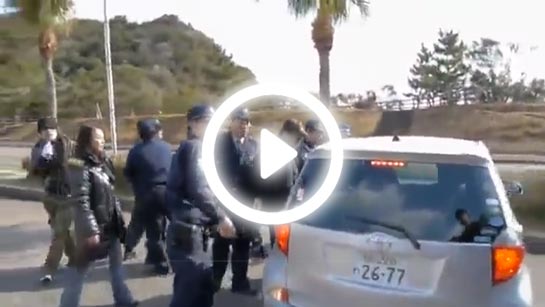 http://www.youtube.com/watch?v=HQKI_XZykLE&sns=fbdesktop_uri=%2Fwatch%3Fv%3DHQKI_XZykLE%26sns%3Dfb&app=desktop
Please find the translation Japanese > german below
Ihr seid euch wohl im Klaren, dass es euch nach dem Immigrationsgesetz nicht gestattet ist hier politische Kundgebungen durchzuführen. Was bildet ihr euch ein, dringt einfach in fremdes Gebiet ein! Hey ihr Bleichgesichter, wollt ihr wieder wie früher die Japaner unterdrücken? Sea Shephard? Was Seid ihr eigentlich für ein Safthaufen? Soll ich euch mal den Kopf abreißen und den Seebarschen zum Fraß vorwerfen? Ihr weißen Schweine! Was glaubt ihr eigentlich wer ihr seid? "Oh wir sind was besseres als die sonstigen Papier Aktivisten!" Ich zertrümmere dir gleich die Sonnenbrille du Arsch! Na fühlst du dich klein fühlst du dich klein? Soll ich dir mal aufs Maul hauen? Komm steig aus du Feigling, steig aus! Ich bring dich um du Arsch. Warte nur ab du Arsch, es kommen noch mehr von uns zur Unterstützung! Na hast du Angst du Feigling? Hau ab, hau ab, lass dich hier nicht mehr blicken! Au au au, sie wenden Gewalt an! Das ist die Methode der Bleichgesichter Au Au Au! Esst ein Paar Chicken Nuggets und fahrt Heim! Wenn ihr euch noch länger in Japan aufhaltet, werdet ihr ganz bestimmt eines Tages von einem Japaner umgebracht. Fahrt heim!
Nach der Abfahrt von Sea Shephard:
Wir Japaner sind einfach zu zurückhaltend. Das ist der Grund warum wir immer wieder vom Ausland verarscht werden. Das ist die Schuld der Immigration. Die müssten solche Leute besser kontrollieren und aussortieren. Die Bleichgesichter kennen keine Grenzen. Die fordern immer mehr, immer mehr. Die sind nicht so zurückhaltend wie die Japaner. Komm, lasst uns was essen gehen.