… today an incredible amount of 5 !!! pods of bottlenose dolphins were driven into the cove. the dolphins are tail slapping, and spy hopping out of fear and frustration. they are netted in the cove without any food. they are susceptible to immense stress and have to wait for their fate. this is cruelty at its peak.
DO NOT BUY A TICKET TO ANY MARINE PARK OR ABUSEMENT PARK SUCH AS SEA WORLD!!!
Read More
… my fellow CG and me standing at the entrance of taiji harbour, waiting for the killer boats heading back … always with the uncertainty if empty handed or having another red cove day!
the only "weapons" we have are our cameras & video cameras to document all the cruelty, insanity and sheer horror that takes place during the hunting season every year from september until march.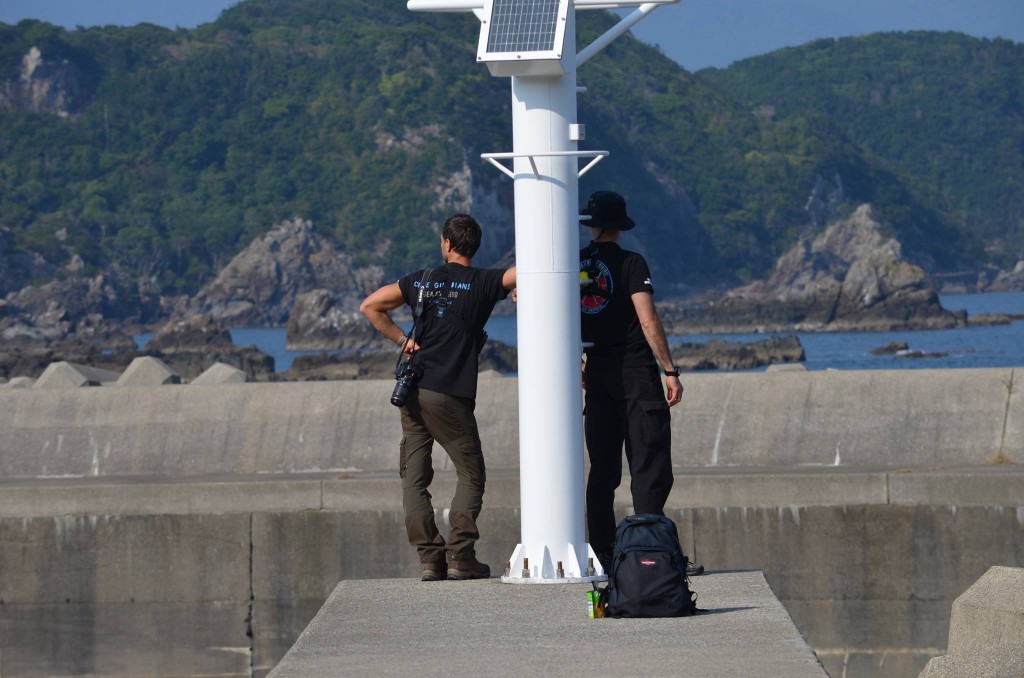 me and my CG fellow waiting at taiji harbour peer[/caption]
Read More
…. transported like tin cans, these highly sensitive and social animals arrive in china.
this animal abuse only for human entertainment!
There is only a view dolphins & whales left in our beautiful oceans, it is not too late, protect our oceans!
DO NOT BUY A TICKET TO ANY DOLPHINARIUM, SWIM WITH DOLPHINS FACILITY or SEAWORLD OR ANY OTHER DOLPHIN / WHALE ABUSEMENT PARK!!!
Read More
… another sad day! These people are just sick! They drive into the cove with their skiffs for slaughtering innocent lifes and laugh and smoke … unbelievable.
This happens almost every day in taiji, a place also known as hell on earth!
DO NOT BUY A TICKET FOR ANY MARINE PARK, SWIM WITH DOLPHINS FACILITY, SEAWORLD ETC…
Read More
… in this video you can see the skiffs pushing a pod closer into the killing cove, into more shallow waters to start the killing and captive selection for marine parks. With going reverse the noise of the engines is even louder and more frightning for the dolphins, so the pushing is easier for the killers. As soon as they passed the right edge of this rock, you cannot see anymore what happens there observing the killing cove from this location … but you can see some splashes because the dolphin try to escape and are frightened … the pod huddles closer together as nets are pulled slowly tighter …
Please click below to watch a short movie – skiffs pushing a pod into the killing cove
Read More
… every day during the hunting season, the same 12 killing boats with the same killers leave the harbour of taiji between 05:30 and 06:00 to hunt innocent dolphins to capture them for human entertainment or slaughter them …
Please click below to watch a short movie – banger boats leaving taiji harbour
killing boats leaving taiji harbour
Read More
… another red cove day, showing the insanity, indifference and irreverence towards living animals!
Read More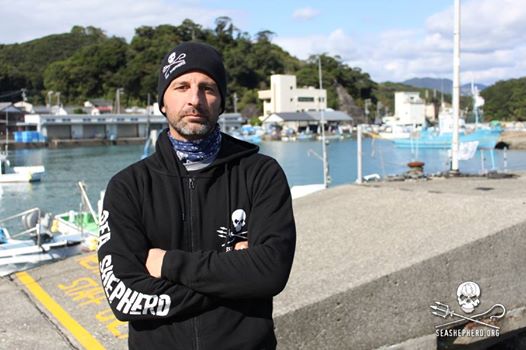 I have traveled from Germany to be a voice for the dolphins of Taiji.
"For the last 2 years I've wanted to travel to Taiji to be a voice for the dolphins, and this year I made my way to Japan to volunteer and support Sea Shepherd's Cove Guardians.
Arriving in Taiji for the first time was kind of surreal and cannot be compared to all the documentations, such as watching ''The Cove." Everything becomes real and you can see the faces of the killers laughing while going out on their boats, which made my heart cry every single time! The feelings you have standing nearly face to face with these heartless killers is hard to explain unless you have experienced it for yourself.
I could only make it for a short time this year, but I will definitely come back and be a voice for the dolphins, because this insanity has to stop! I want to give my 6 years old little son the opportunity to experience wild dolphins in the future, so we all have to do all we can to save them!
Dolphins are intelligent and social beings, that live in close family groups. They feel, they call each other names, and are just a precious present from the ocean.
No one has the right to do these barbaric drive hunts that start early in the morning with the boats that go out with the killers from the harbour. It is just NOT right what they do!
We prayed every morning for a 'blue cove' day and stood strong together as the Cove Guardians. The time I spent here changed my life, even though it was a short one. Standing together as a group and fighting for these beautiful animals together, gave much to me!
Let the dolphins swim free, they belong to the wild"!
Read More
… the cove runs red today another senseless time … people in the world, please wake up to stop this horror!!!
Read More